TOWN OF CADY – A Cady Township couple fled their rented farmhouse mid-morning Saturday after a passing motorist on nearby Hwy. 29 alerted them to an apparent chimney fire. Within minutes, flames had spread to the roof and nearby bedroom, prompting a response by at least six area departments before the blaze was extinguished.
St. Croix County dispatchers alerted Spring Valley and United Fire departments to the blaze, two miles east of town, about 10:30 a.m., Jan. 28. Weather conditions were described as 2 degrees with light easterly winds.
The first-arriving sheriff's deputy described heavy smoke coming from an upper window and the chimney area.
Spring Valley Fire quickly requested a mutual aid response that eventually brought engines, tenders, ambulances, support equipment and personnel from Elmwood, Glenwood City, Baldwin, Woodville, Hammond, Menomonie, Roberts, Hudson, and River Falls. Ellsworth firefighters shifted an engine and manpower to Spring Valley to provide backup while all crews were out.
Resident Jamie Hopkins said she and her husband, John, rent the home. He was just exiting the shower when someone rapped on the door and reported there was smoke and flames visible near the chimney. The couple quickly dressed, departed the house and took refuge in a vehicle to await help. Their son was also home at the time.
In a Facebook post, Jamie Hopkins wrote, "A gentleman stopped, knocked on our door, and said, 'Your house is on fire, get out ,'and yup, it was, smoke was just pouring out of the top of the house. I yelled to Logan to get down here, the house is on fire and my poor husband who was in the shower jumps out and gets dressed completely wet, trying to help me and Logan get our animals out, while at the same time I'm trying to frantically find my phone to call 911 … by the time they got to the scene unfortunately, they couldn't get it contained, and it just kept spreading."
St. Croix property records list the farmstead as being owned by Duane and Linda Wilman of nearby Wilson.
The renter said they heat the home with a wood-burner and had just recently purchased $400 worth of firewood and were planning to make more later that day.
Firefighters attacked the blaze from both inside and outside, using handlines and a ladder truck from Spring Valley. Water was provided from two portable tanks, fed by any of six tenders waiting along 320th and Hwy. 29. Other tankers relayed water from Spring Valley.
All units cleared the scene at 1:26 p.m. A Gofundme page has been set up to help the family. Go to Gofundme and search "Hopkins family in time of Crisis."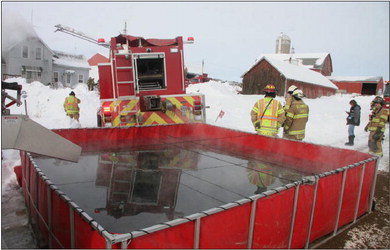 One of two drop tanks providing water at the scene of a house fire Saturday, Jan. 28 on 320th Avenue in the town of Cady, east of Spring Valley. Submitted photo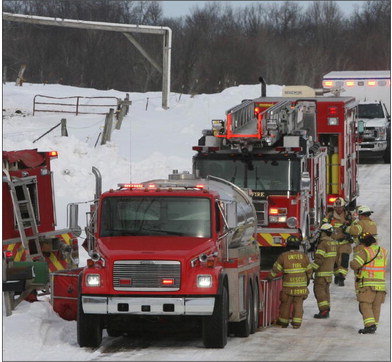 The scene of a farmhouse fire was busy as multiple departments arrived Saturday, Jan. 28 on 320th Avenue in the town of Cady. Submitted photo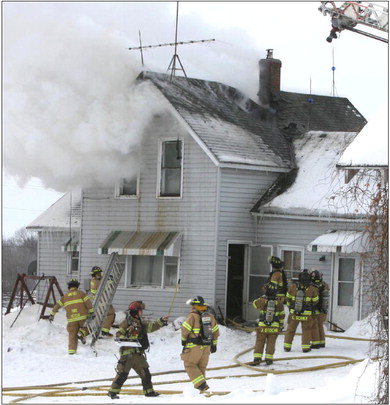 As Spring Valley firefighters arrive at a town of Cady housefire Saturday, Jan. 28, smoke billows from the rented farmstead. Submitted photo