PRESCOTT – The inaugural run of Winter Fest, featuring a day of outdoor and indoor fun in downtown Prescott on Saturday, Jan. 14 was deemed a big success.
Ice sculptors crafted creations in front of shops and on downtown corners, with Tom Schiller's muskie carving winning the contest.
The event was sponsored by the newly created Prescott Tourism Commission, with a goal of bringing visitors to Prescott.
"For the first time trying something like Winter Fest, I think most were pretty pleased with the turnout, the activity downtown. The shops and restaurants all seemed busy. It was, from that perspective, a success," said Prescott Area Chamber of Commerce Director Casey Johnson. "The Prescott Historical Association commented that they had over 150 people tour the building and learn about Prescott, gained new members and a few donations. I know the hotels and motels in town were completely full. The artists did an amazing job with the ice sculpting. It was wonderful to see so many families out and about checking it out."
Greg Schmotzer was working on an eagle carving from a 300-pound block of ice in front of Lucille's, 216 Broad St. He said he learned the skill on a bet.
He used to make creations from butter and fruit, and he was bet he couldn't work in the medium of ice. He definitely won that bet, judging from the reaction of those watching him chip away at the ice with a chainsaw.
"My first one was two doves kissing on a heart. It was a success. It was on the buffet that night," he said.
Six nationally renowned sculptors competed for the first best of Winter Fest honor.
The event featured ice skating, live music, bonfires, s'mores and a meat raffle.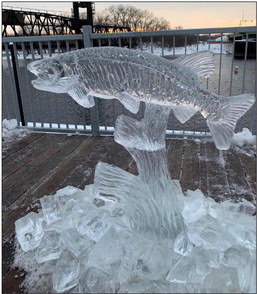 Picked as the top ice sculpture at Prescott Winter Fest on Saturday was this muskie, crafted by Tom Schiller. The first Winter Fest was deemed a success by organizers. Photo by John Mc-Loone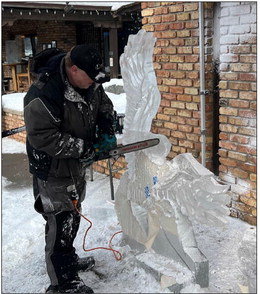 Greg Schmotzer worked on carving an eagle from a 300-pound block of ice at the Prescott Winter Fest Saturday. The event featured six nationally renowned sculptors creating their frozen masterpieces. Photo by John McLoone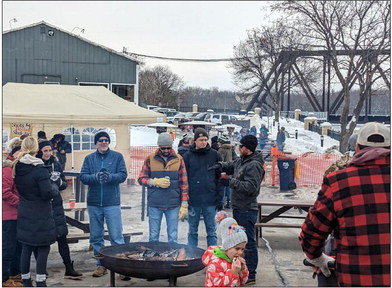 Prescott Winter Fest patrons warm up by a fire along the Prescott River Walk Saturday afternoon. Organizers are already making plans for next year's event. Photo by John McLoone