The Sept. 12 Prescott Kiwanis Student of the Week was junior Marissa Shelstad, who was nominated by Prescott High School stau. "Marissa was nominated by PHS stau to be the WILS representative last year for her great leadership skills," a statement reads. "She was able to attend the virtual WILS seminar in May. Congratulations on a job well done, Marissa!"
Marissa is the daughter of Jenny & Paul Shelstad. She enjoys participating in cross country, track and field, Na tional Honor Society and volunteering with various organizations. In her free time, she enjoys running, traveling and spending time with friends and family.
Her future plans include attending a two- or four-year college or university.
*** The Sept. 19 Prescott Kiwanis Student of the Week is senior Tailynne Hughes, who was nominated by choral director Brittany Kamrath.
"Tailynne has been involved in choir, honor choirs, and musicals throughout high school," Kamrath said. "She comes to choir with a positive attitude every day and is consistently kind to everyone she interacts with. Tailynne is a ray of sunshine in everyone's day! We have been so fortunate to have her as part of the choir for the past four years!"
Tailynne is the daughter of Paul and Brooke Hughes. She works at Selah Vie Coffee Shop & Bistro in River Falls. She also enjoy participating in the annual high school musical.
Her hobbies include reading, drinking way too much couee and spending time with family and friends, who she loves dearly.
In the future, she plans to go to college and pursue a ca- reer in the medical field. Her top career choices are becoming an ultrasound technician or a neonatal nurse. Additionally, she would like to have a family of her own and eventually write a book.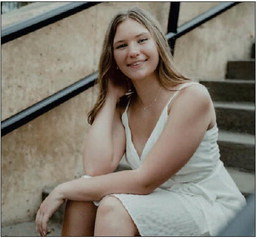 Tailynne Hughes