ELLSWORTH – It was a day Army Reserve combat veteran Devin Feuerhelm thought would never come, but come it did. On Friday, Nov. 11 in front of a packed house. U.S. Rep. Ron Kind awarded him a Purple Heart at the Ellsworth Middle School Veterans Day ceremony.
As EMS Principal Olin Morrison quoted Eleanor Roosevelt, "Freedom makes a huge requirement of every human. With freedom comes responsibility."
Morrison directed his opening remarks to the students gathered there, imploring them to look for the little things on Veterans Day and every day: The dedication in a veteran's eyes, the sorrow when a veteran's name is read in remembrance, the way a veteran overcomes the hindrance of aging and injury, the way veterans seek to leave others' lives better, the respect veterans show when greeting one another.
Kind took the mic next, reminding attendees that Veterans Day began as Armistice Day, a celebration of the end of World War I fighting at 11 a.m., Nov. 11, 1918 (the 11th hour of the 11th day of the 11th month).
Kind, who did not seek re-election this November, said the best part of serving 26 years in the U.S. House of Representatives was nothing specific he himself did. Rather, it was the opportunity to visit troops stationed across the globe. He visited troops in Iraq five times, Afghanistan six times and Kosovo once.
"Nothing has made me prouder to be an American than seeing men and women in uniform advancing the cause of peace across the world," Kind said. "They're the best our nation has to offer. Unfortunately, many don't return home.
Kind spoke of the Veterans History Project, which collects, preserves and makes accessible firsthand accounts by U.S. military veterans who served in World War I through present day conflicts and peacekeeping missions. The project aims to give future generations the chance to hear directly from veterans and better understand what they saw, did and felt during their service. The stories and oral histories are preserved in the Library of Congress.
The idea for the project came to Kind one Father's Day while listening to his dad and uncle talk about their service, in Korea and World War II, respectively. So far more than 120,000 stories have been collected nationwide.
"I know you veterans," Kind said. "You don't feel you did anything special, but you really did."
After receiving the Purple Heart from Kind, Feuerhelm gave attendees a short history on the Purple Heart, which is awarded to those killed or wounded during combat. Gen. George Washington awarded the first purple- colored heart-shaped badge to soldiers who fought in the Continental Army during the American Revolution. It is the oldest military decoration and is awarded to any soldier, sailor, airman or marine who sheds blood in defense of the nation.
More than 1.8 million Purple Hearts have been awarded, according to the USO.
Feuerhelm, who served in Iraq with the 100th Battalion, 442nd Infantry Regiment of the U.S. Army Reserve, was on patrol with his crew at Logistical Support Area Anaconda at Balad Air Base in May 2005 conducting route clearance when they got hit with a roadside bomb. Feuerhelm was manning a 50-caliber machine gun; half of his body was sticking out of the armored Humvee when the bomb exploded, peppering him with rocks and shrapnel.
"Our platoon was hit with 13 IEDs, the most in our battalion," Feuerhelm said. "I still look for IEDs driving down the road. I know they're not really there, but …" While in Iraq, Feuerhelm and his comrades tried to make friends with the local children by giving them Beanie Babies, food and school supplies. Sometimes people hid bombs in the carcasses of dead animals. If the kids weren't outside playing, that usually spelled trouble, he said.
"By the grace of God, we made it out," Feuerhelm said. "I believe a higher power was watching over us. We let our training and instincts take over during a lot of pucker your cheeks moments. We got up each day and moved forward."
When he was discharged, Feuerhelm began wearing a Valhalla Project bracelet in memory of the 22 veterans a day who commit suicide across the country.
"We must do better to take care of our veterans when they come home," Feuerhelm said. "To me every day is Memorial Day and every day is Veterans Day."
He encouraged veterans to see their county veterans service officer for support and to join veterans' organizations such as the American Legion. Feuerhelm is an active member of the Bay City American Legion Post 357.
"The Legion gave me a purpose to give back to the community," he said. "We need to bring back the ideals of the Greatest Gen- eration."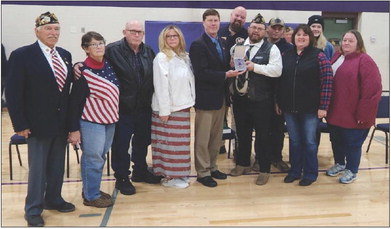 Purple Heart recipient Devin Feuerhelm poses with U.S. Rep Ron Kind, Pierce County Veterans Service Officer Scott Braden, family and Bay City American Legion members Friday, Nov. 11 at Ellsworth Middle School. Photo by Sarah Nigbor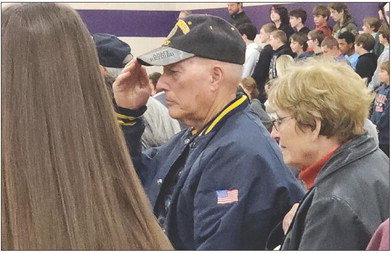 A retired Army veteran salutes during the playing of Taps at the Ellsworth Middle School Veterans Day program on Nov. 11. Photo by Sarah Nigbor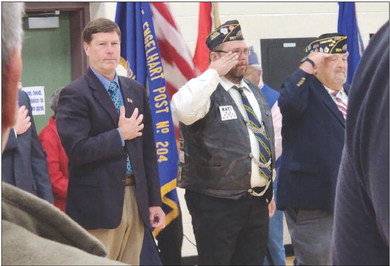 Veteran Devin Feuerhelm and U.S. Rep. Ron Kind during the "Star Spangled Banner" at Ellsworth Middle School's Veterans Day program on Friday. Nov. 11. Photo by Sarah Nigbor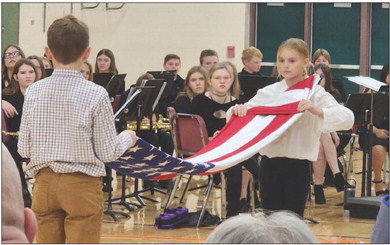 EMS sixth graders Mackenzie Hince (facing camera) and Jordy Anderson demonstrated the proper way to fold an American flag at the EMS Veterans Day ceremony on Friday. Photo by Sarah Nigbor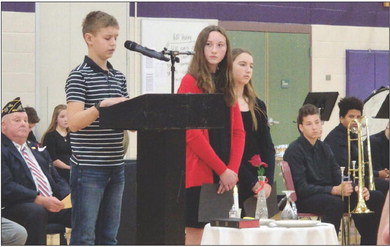 EMS seventh graders Cameron Sears (at the mic), Maye Petersen and Makayla Geragi read poems honoring veterans and the Purple Heart Friday, Nov. 11 at Ellsworth Middle School. Photo by Sarah Nigbor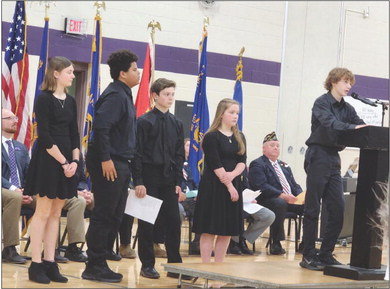 EMS eighth graders (not in order) Gavin Wittenberg, Eli Grand, Bethany Kaufer, Matthew Lundstrom and Bridget Dendinger read a poem Friday, Nov. 11 at Ellsworth Middle School. Photo by Sarah Nigbor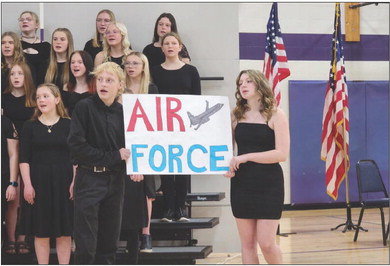 Members of the Ellsworth Middle School eighth grade choir sang "A Tribute to the Armed Services" and invited members of the Air Force, Army, Navy, Coast Guard and Marine Corps to stand as their songs were sung. Photo by Sarah Nigbor