Schmalstig's journey to learn primitive skills
When Class of 2020 Ellsworth High School graduate Raye Schmalstig was in fifth grade, she read "My Side of the Mountain," a book about a boy who survives in the Catskill Mountains of New York. The book struck a chord with her, one that's been echoing through the years and could not be ignored.
The Beldenville native has followed her heart and now works in the wilderness of the western United States as a Windwalker/field guide for a wilderness therapy organization. She spends up to 15 days at a time in the wilderness, away from cell phones and modern conveniences, using primitive skills to live off the land and to teach others nature's healing ways. "It didn't really hit until senior year," said Schmalstig. "I always knew I wanted to do something like this, but I wasn't sure that I could."
She graduated deep in the midst of "the Covid year" of 2020. She already knew learning online wasn't ideal for her. The options before her (a job, the military or college) didn't appeal to her. Nothing felt right, though she kicked around the idea of becoming an electrician.
The longing awoken long ago by "My Side of the Mountain" became stronger. She wanted to learn how to survive in the wild, like the main character in the book. She wanted to see if she had what it takes, to find her true self. She didn't want to be stuck in a classroom or behind a desk. She wanted to experience life, even if it was hard, uncomfortable or unknown.
Schmalstig researched and enrolled in Green University, a year-long immersion program in Cardwell, Mont., that teaches wilderness survival skills, sustainable living and green business entrepreneurship. In October 2020, she began the course by living with 15 students in a camp on the Jefferson River in Montana. They lived in a big, earthen lodge when they weren't traveling and cooked in a kitchen with three walls made of sticks, insulated with cardboard. Visiting instructors taught them how to skin animals and tan hides, to build fires with friction, to keep warm with a woodstove. The camp provided students rice, beans and oats to eat.
"We were on our own for everything else," Schmalstig said.
They picked up roadkill and processed the meat before tanning the hides. They could butcher meat from a herd of sheep at the camp. The number of students who stayed dwindled through the winter months.
"At the end of the year, there was a crew of like six of us," Schmalstig said. "I found out I really like living in that community setting because I like having people around to hang out with, work with. We got very close living together like that."
They had battles over who was going to get the dishes done, like a regular family.
Schmalstig said some of the primitive skills she learned came naturally, but many were challenging for her. At times, she wondered what she had gotten herself into.
"Most were pretty difficult to learn to be honest," she said. "I was really good at taking care of the sheep and came to be known as the Sheep Queen. It was trial by fire. Learning how to sleep warm outside. The animal processing was really difficult at first, though I learned to love it. The first roadkill deer we processed, I was dizzy with disgust and near fainting."
Her parents were reluctant and nervous when she enrolled in Green University.
"The website is old looking and the terminology made it seem cult-like," Schmalstig admitted. "But once I got there and started learning more and about the opportunities in primitive skills, they were really supportive."
Throughout that year, she discovered a knack for animal processing. She enjoys the intricate process of gutting and skinning the animal, tanning the hides, and cooking and preserving the meat. In fact, when she returned from Green University, she began working at Pierce County Meats, a job she held for almost nine months before the tug to the wilderness took her out West again.
WinGate In February 2022, Schmalstig attended Winter Count, a gathering in Arizona dedicated to reconnecting people with ancestral skills such as making fire, tanning hides, forming metal, weaving baskets, hunting and gathering. This is where she learned about WinGate, a nature-based adventure wilderness therapy program in southern Utah. The program provides troubled youth with actual wilderness experiences with the support of trained field staff, medical personnel and licensed therapists. She applied for a field guide position and was accepted.
"I built a bed in the back of my truck and moved to Utah in June," Schmalstig said.
She is known as a Windwalker, or a field guide. The youth clients are called Willow Walkers. She explained the story behind the names.
"Willows need the wind to grow strong and flexible," Schmalstig said. "They did an experiment where they had plants growing in a dome, without wind. They were breaking and shattering, because they couldn't use the wind to become resilient. We're there to be the wind to the willows."
Schmalstig typically works 15-day shifts out in the wilds of the Grand Staircase National Monument with adolescents and young adults. Her job is to help them learn how to live in the wilderness, stay warm and fed, teach them different skills and crafts.
"We aren't the therapists, but we're there as mentors if they need someone to talk to," Schmalstig said. "Some kids are excited to be there, some are sent there and not too happy about it."
At least two Windwalkers accompany every group, which by law is required to have one staff member per four youth. Most groups number three to eight youth, she said. They spend 15 days in the wilderness hiking and learning survival skills and crafts.
"Movement is important," Schmalstig said. "For cooking, we get all of our fires by friction, using a bow drill or a hand drill. The kids make their own kits out of sage, yucca or juniper. We cook on those fires and gather. We do lots of crafting, sewing with leather, carving spoons, bead looming."
During one shift, Schmalstig showed her group how to tan a rabbit hide. She said about half the kids are receptive to the program's intent of using nature to empower healing. "Some kids are really excited to give the program their all, wanting to learn all they can and the therapeutic value of what they're doing and how it might help them," she said. "Some kids are pretty reluctant and angry to have been sent there, which is 100% understandable. You have to remember that the wilderness is doing the healing. The wilderness will teach you whether you want it to or not. You have to hope that they'll mentally integrate those lessons later on."
Schmalstig said she feels most like herself when she's working in the field. She truly loves working with the kids, finding it rewarding, especially when it's difficult.
When she's not working in the wilds of Utah, her home is her Trouse, the truck she converted into a sort of camper.
"Why spend money on rent when I'm in the field 15 days at a time?" she reasoned. "The bed is comfy and I can travel around plenty."
She's gone to primitive skills gatherings in Idaho and visited friends in Montana. She can shower at the RV park in Kanab, Utah (her home base) for free. An abundance of public land makes finding a safe, free and legal place to park for the night easy. She finds the lifestyle financially freeing.
Schmalstig said her time in Pierce County 4-H helped her prepare for working with youth. The freedom to explore her interests in 4-H, working with and mentoring other youth and learning responsibility helped prepare her for a rewarding career in wilderness therapy.
"I'm really liking working in wilderness therapy," she said. "I've never been settled down on anything for more than a year."
She plans to explore other interests, such as attending Buffalo Bridge (a Native American month-long bison hunt) and primitive skills gatherings to keep learning as much as she can.
"I want to encourage people to think about how they want to live their lives and to be creative. There's lots of adventure to be had out there. I'm having fun being a little nomadic," Schmalstig said.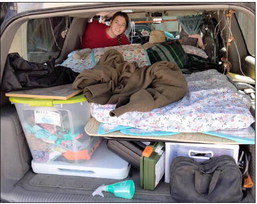 Beldenville native Raye Schmalstig is proud of her "trouse," a truck she has converted into a small house for her travels.Photo courtesy of Raye Schmalstig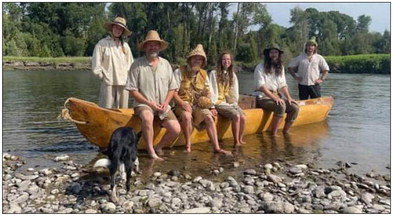 Raye Schmalstig, along with her classmates, learned how to make a dugout canoe at Green University's River Camp. Photo courtesy of Raye Schmalstig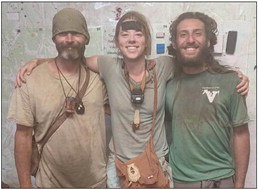 Raye Schmalstig getting out of the field with her coworkers, Paul and Mason, at WinGate Wilderness Therapy in Kanab, Utah. Photo courtesy of Raye Schmalstig