For whatever reason, Eau Claire Memorial senior guard Mason Stoik always brings his A-game when he's playing against the River Falls Wildcats.
He did exactly that on Saturday night in River Falls, as he and the Old Abes snapped the Wildcats' nine-game win streak with a 54-51 victory. Stoik scored 20 in the second half en route to a game-high 31 points in the victory.
River Falls went into the game as winners of nine straight and as the No. 10-ranked team in the weekly Division 2 Wissports.com coaches' poll. Memorial entered the contest on a 12-game win streak and as the No. 8-ranked team in the Division 1 poll.
Even with Stoik's vintage offensive performance, River Falls had its chances to win. The Wildcats led multiple times throughout the second half and even had possession down two points with under 20 seconds to play in regulation. River Falls head coach Zac Campbell spoke about the bittersweet taste of going toe-to-toe with Memorial but ultimately coming up short.
"I'd feel a whole lot better about the moral victory piece if I didn't feel like we left a couple of plays out there in the mid and late second half that could have changed the complexion of the game," Campbell said. "That's a team that can run away from us, but our kids battled. From a talent standpoint, we can't match with them – none of the teams in our league can. But our guys battled and gave ourselves a chance with a great run in the second half."
River Falls made runs early in both halves. The Wildcats methodically built an 11-4 lead through the opening seven minutes of the first half. That's when Stoik and the Memorial offense got hot and went on a 16-2 run throughout the next six minutes.
Stoik scored 11 of the 16, which included two three-pointers, a three-point play the old-fashioned way and a slashing layup that helped Memorial take a 20-13 lead with under six minutes to play in the first half. Shortly thereafter, the Old Abes took a 29-23 lead into the halftime intermission.
Just as Campbell stated, River Falls made a great run to start the second half. The Wildcats' offense got into a rhythm and went on a 14-1 run in the first three minutes coming out of the break. The scoring salvo gave River Falls a 37-30 lead with 15 minutes to play in regulation.
River Falls' run included a pair of three-pointers by senior guard Aidan Carufel, multiple post moves by sophomore forward Eli Johnson and junior guard Joey Butz finishing at the rim effectively.
Despite River Falls throwing its best haymaker, Memorial picked itself up off the mat and started punching back. Stoik threw most of the metaphorical punches midway through the second half when the Old Abes strung together a 20-6 run that spanned 13 minutes and culminated in a 52-47 lead with just over a minute left in regulation.
River Falls managed to cut the lead back to two points with under 20 seconds to play but turned it over on the most important possession of the game that ultimately led to the 54-51 loss. For coach Campbell, not having sophomore point guard Preston Johnson, who broke his ankle just over a week ago, completely changed the game against Memorial.
"I hate to go back to this, and Stoik is a heck of a player, but if Preston is playing it allows Aidan to be off the ball so he can focus more attention on (guarding Stoik)," Campbell said. "Aidan would have been able to focus on that rather than handling the ball and having to guard their best player."
Preston Johnson's absence was noticeable in many aspects. River Falls' lack of downhill finishing at the rim meant that perimeter shooters weren't as open as they were with Preston Johnson on the floor. The aforementioned Carufel had to guard Stoik nearly the entire game while also adjusting to being the full-time ball handler.
The Wildcats' overall depth was depleted as the normal sixth man off the bench moved into a starter role. In a big-time game where rotations shrink to six or seven guys, missing a starter is a catastrophic problem. Campbell spoke about his players being gassed in that second half against the Old Abes.
"It stayed tight too long. I tried to even burn a full timeout to get (Joey Butz) a little bit of a break," Campbell said. "We gave Aidan a really quick rest and Stoik went on a 7-0 run while Aidan was on the bench. I told him that was it and that was all I could give him, we needed him back out there."
River Falls simply ran out of gas down the stretch and Memorial took advantage of it. Three Wildcats scored in double figures including Carufel with 16, Eli Johnson had 14 and Joey Butz tallied 13.
With the loss, River Falls fell to 12-5 overall and 5-4 in Big Rivers Conference action. The Wildcats are back in action on the road against New Richmond on Thursday, Feb. 2. Tip-off for that game is scheduled for 7:15 p.m.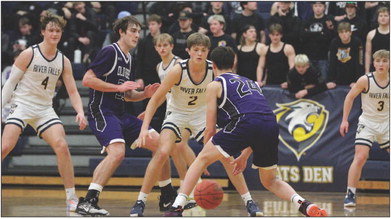 River Falls senior guard Aidan Carufel plays perimeter defense on Eau Claire Memorial guard Mason Stoik (#24) as he waits for a ball screen during the game on Saturday night. Photo by Reagan Hoverman