Land Conservation department celebrates its conservation dam legacy
DIAMOND BLUFF — A dedication ceremony for the 1,000th dam built by Pierce County Land Conservation was held on the Holst Farm in Diamond Bluff Tuesday, Nov. 8. Those in attendance included members of the county board, earth work contractors, and previous conservation staff to celebrate this momentous occasion.
A dam is a structure engineered to slow down surface runoff, promoting infiltration and preventing erosion. They are commonly installed after large gullies start to eat away at a field edge.
"The Driftless area comes with drastic changes in topography," conservation program specialist Retta Isaacson accounted. "But with theses strategic conservation dams in our uplands, even with the increase in intense rainfall we've seen in the past few years, we are protected from serious flash flooding issues and soil erosion."
Almost 80 square miles of land in Pierce County drain into one of these structures, which average a 67% reduction in surface runoff. Over 40 engineers and engineering technicians are credited with designing these structures, Jim Christenson with the most at 261 dams over his career.
"A 'chiliad' is a word that describes 1,000 rare things— and 1,000 dams, places that citizens of our county cared enough to do something about, that has impacts for generations to come and that's rare," added Isaacson. "We are so thankful for all the landowners, engineers, and contractors who made our chiliad possible."
Pierce County Land Conservation Department offers technical and financial assistance for soil and water conservation practices, farmland preservation, tree sales, deer damage claims, and other related soil and water conservation programs.
Submitted by Pierce County Land Conservation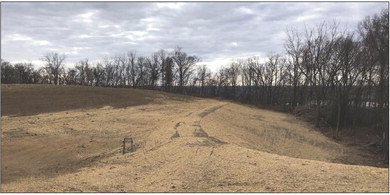 The 1000th dam has been installed on Holst Farm in the town of Diamond Bluff. Dams slow down surface runoff, promote infiltration and prevent erosion. Photo courtesy of Rod Webb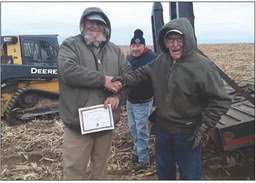 Land Conservation Committee Chair Jerry Kosin (right) presents Jeff Holst with a certificate, commemorating the installation of the 1000th dam built by Pierce County Land Conservation on Holst's land in the town of Diamond Bluff. Photo courtesy of Rod Webb