Cats deliver Hudson its first conference loss since 2019
For nearly the last three calendar years, the Hudson Raiders hadn't lost a regular season game in the Big Riv – ers onference. River Falls broke that streak at home on Tuesday, Sept. 13, in a 2-0 shutout victory over the rival Raiders.
While one win can't change the outlook of a sea- son, River Falls will certain – ly get a jolt of confidence by defeating not only a rival in Hudson but a soccer pro- gram that has won the last two BR championships and finished runner-up in the Di – vision 1 State hampionship game last season.
River Falls head coach Jacob Langer stated that the victory over Hudson chang- es a lot of things for teams around the Big Rivers on ference.
"It sets us up perfectly going into the rest of the conference play," Langer said after the victory. "We can't take our foot ou of the pedal and all of a sudden, we're back in the conference (champion – ship) conversation and I'm sure Memorial is watching and is excited. They're probably thinking they're back in it too."
River Falls senior forward Zack Nye, who is also one of four captains on this 2022 roster, had himself a career day against Hudson, as he scored both goals in the 2-0 victory. The first goal came 16 minutes into the second half. Nye received a pass from midfield, broke loose down the sideline, and was slide tackled as he began to take a shot on goal.
Because of that infraction, Nye got a penalty kick which he booted past Hudson senior goalkeeper Toby Schneider to give River Falls a 1-0 lead. Nye's second goal came 30 minutes into the second half when he again got behind the Hudson defense.
The Raiders tried to recov er as Nye crashed toward the net but a collision gave Nye a second penalty kick opportunity. The senior captain again cashed it in and gave River Falls a commanding 2-0 lead against one of the top-ranked Division 1 soccer programs in the state.
Nye's two goals in the second half helped the Wild- cats secure a season-defining win. Coach Langer spoke about an in-game adjustment he made to get Nye more scoring opportunities which proved fruitful in that second half.
"Zack Nye was burning the sideline (in that second half). It was a tactical adjustment because I didn't feel like we were getting Zack's speed on the wing enough," Langer said. "It was like five minutes before that first (penalty kick) when I rotated him up to the top and obviously he showed through right away that he was going to be a diuer –
ence-maker." While Nye was taking care of the scor ing opportunities in that second half, River Falls senior goalkeeper Remy Espanet, also one of the four team captains, was pitching a brilliant shutout against a dynamic Hudson ouense.
Espanet had several game-changing saves throughout the contest. The first came 21 minutes into the first half when Hudson had a breakaway. The Raiders booted a shot to ward the goal which Espanet managed to get a hand on and deflect away to keep the game scoreless.
Espanet again came up clutch six minutes into the second half when he made a diving deflection to save another goal. Langer spoke about Espanet's shutout performance against Hudson on Tuesday night.
"Zack (Nye) and Remy (Espanet) definite ly played their minds out today," Langer said. "Remy pitching the shutout makes a huge diuerence. He came up with some phenom – enal saves."
While Espanet was unquestionably excellent in the net for River Falls, freshman midfielder Wyatt Nelson had a great game slowing down Hudson's ouensive attacks. Nelson has made himself a mainstay for the River Falls defense throughout his freshman campaign.
"He's such a great kid. He's a hard worker and is a quiet kid but he busts his butt every play," Langer said. "His older sister Olivia Nelson was the captain for the girls this past season. He's literally a boy version of her. I lean into him way more than I ever expected to this season and I've been so incredibly proud of how well he's developed and stepped up."
With the win, River Falls improves to 5-1-2 for the season, which includes a 2-11 record in Big Rivers Conference action this season. River Falls moves into a tie for second place with Eau Claire North, while Hudson and Eau Claire Memorial are now deadlocked for first place with 3-1-0 records.
"We needed a result like that (win over Hudson)," Langer said. "We tied North St. Paul, which probably should've been a win. We lost to Memorial in a game where we felt like we had a chance to get a tie out of it and then tied New Richmond in a game where we felt like we outplayed them for the last half. To have a start-to-finish game like this, a full 80 minutes, it's a diuerence-maker and I hope people notice."
Up next for the Wildcats is another Big Rivers contest at home against Eau Claire North on Tuesday, Sept. 20. That game is slated to begin at 7 p.m.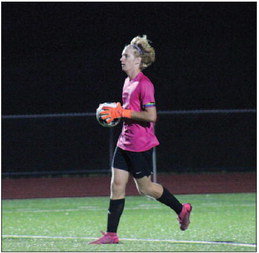 River Falls senior goalkeeper Remy Espanet, who is also one of the four team captains, runs down the field while looking for an open teammate shortly after making one of his many saves against Hudson on Tuesday night. Photo by Reagan Hoverman