Pierce County Food Pantry offers fresh produce
By Sarah Nigbor
ELLSWORTH – Ron Campbell, longtime Pierce County Food Pantry director and board member, will be remembered with a memorial garden, which was dedicated on Wednesday, May 18.
Current Pantry Coordinator Heidi Albarado led the ceremony, which included reminiscing about Campbell's contributions and installing a memorial sign near the garden. The garden, which made its debut last year, will be expanded this year, along with seven fruit trees (apple, plum, and pear). The garden is located behind the Pierce County Food Pantry at 440 N. Maple St., Ellsworth.
The garden's produce is shared with all six Hunger Prevention Council pantries in Pierce County, Albarado said. Herbs are also planted nearby, along with a small raspberry patch.
"It's more commodity for our customers and it's fresh, beautiful bounty," she said.
Campbell's son Paul said his dad always had a large vegetable garden, producing everything from rhubarb to hot peppers. He laughed as he recalled birds pecking at some pepper plants, which were scorching hot. They took their fill, but could be seen spitting it out.
See RON CAMPBELL, Page 8 Ron Campbell
from Page 1
"We always canned a lot of food," Paul Campbell said. "You can't always get fresh veggies at pantries, so this is important."
Campbell was an active volunteer for the food shelf for many years, serving as director for about five years and on the board. He could be counted on, day or night, to help at the pantry, those at the gathering said.
Volunteer Randy Campbell (no relation, but good friend) said he remembers unloading food when the pantry was located in the basement of the village hall. There was never enough room and they were always trying to figure out where to put everything.
"He was a pleasure to work with and always willing to help," Randy Campbell said.
Another volunteer shared that nothing went to waste, including dented cans, and she appreciated his dedication, even on weekends and holidays. That included one Thanksgiving when water was leaking into the pantry.
"It didn't matter what time it was, he was there, even on the weekends," she said.
Campbell also enjoyed working with the young people who would perform their service learning hours at the pantry, his son said. He had a way with people, especially kids.
"He was very proud about working at the pantry," Paul Campbell said.
Campbell was also a master gardener, and his home and yard showed his love of gardening. In fact, he shared his knowledge and mentored many gardeners through the University of Wisconsin Master Gardeners program.
Campbell died at age 75 on Feb. 22, 2022. He was an Ellsworth resident for most of his life and worked in the mortgage banking business. According to his obituary, he loved reading, running, weight-lifting, biking, backpacking, camping, canoeing, traveling and of course, gardening. He was a lifelong member of St. Francis Catholic Church in Ellsworth.
A memorial service was held at St. Francis on Thursday, May 19. If you want to honor Campbell, consider a donation to the Pierce County Food Pantry or plant an apple tree on your property in remembrance.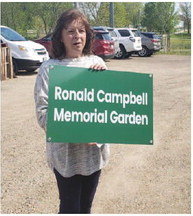 Pierce County Food Pantry Coordinator Heidi Albarado speaks to a gathering at the Ron Campbell Memorial Garden dedication on Wednesday, May 18 in Ellsworth. Photo by Sarah Nigbor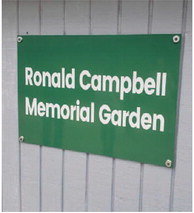 The Ron Campbell Memorial Garden is located behind the Pierce County Food Pantry (440 N. Maple St., Ellsworth). This sign isavxed to a shed near the garden. Photo by Sarah Nigbor



Ron Campbell