By Reagan Hoverman
Prescott head coach Nick Johnson called the 86-67 win over River Falls on Monday a historic night for the boys' basketball program.
Senior Jordan Malmlov put on a show for the ages at home against River Falls on Monday, Feb. 13, as his 55-point performance not only broke a longstanding single-game scoring record; it also brought his career total to 1,798 points, which made him the all-time leading scorer in program history.
Malmlov eclipsed 2018 graduate Peter Brookshaw in both categories, as he previously held the single-game record with his 53-point performance against Ellsworth in February 2018 and his overall career total of 1,756. Coach Johnson spoke about Malmlov's 55 and becoming Prescott's new scoring king.
"It was one of the greatest performances I've ever seen," Johnson said. "Brookshaw scored 53 here against Ellsworth and that was unbelievable, but to see (Malmlov) take down the scoring record and the individual record, it was one of the greatest performances I've ever seen and it was a historic night for Prescott basketball."
Malmlov's final total included 55 points on 57% shooting from the floor. His record-breaking night included 11 three-pointers, six rebounds, three assists, two steals and just one turnover. He spoke about the best performance of his career and breaking the records of those he looked up to when he was a young player.
"I knew coming in that I had a chance to beat Pete's all-time record, and in middle school I looked up to guys like (Brookshaw), Clay (Seifert) and Owen (Hamilton), and I just wanted to work hard to be like them," Malmlov said. "Being able to pass them has been a dream of mine. To get two records in one night, I didn't see 55 coming."
After scoring five points in the first seven minutes of action, Malmlov detonated offensively, as he tallied 30 points in the final 11 minutes of the first half and helped Prescott build a 45-38 lead going into the intermission.
His 35-point first half included 12 made field goals and seven three-pointers. In addition to hitting from well beyond the arc, he attacked River Falls' defense off the dribble and created both midrange jumpers and slashing layups at the rim.
After Malmlov hit another mid-range jumper in the opening minute of the second half, it became clear to those in attendance that his 35-point first half was just the beginning. With each additional bucket in the subsequent five minutes, eyes around the gym continually glanced at the scoreboard to check Malmlov's ever-growing point total.
With around a dozen minutes left in regulation, Malmlov hit a three-pointer from the top of the key and then picked off a pass and went coast-to-coast for a layup on the ensuing possession to give Prescott a 62-43 lead and forced a River Falls timeout.
The stoppage failed to impact Malmlov's white-hot shooting performance, as he buried a wing three-pointer on Prescott's first possession after the timeout. Through those first six minutes of the second half, Malmlov tallied 15 as he reached the 50-point threshold which sent the crowd into a frenzy.
Despite being in the midst of a truly historic performance, he refused to take bad shots and instead got his teammates involved. Malmlov didn't score through the next six minutes as he set up open shots for junior Dallas Wallin and senior Brandon Stuart.
Malmlov's next bucket came around the six-minute mark when he hit a floater from the free throw line that brought his total to 52 for the evening – one shy of tying the record. Less than a minute later he came down the floor, hit a little hesitation move, and then buried a 22-foot three-pointer that gave him 55 points and the single-game scoring record.
"I was hitting every spot I wanted to and when I was getting there, every time it left my hand I felt like it was going in," Malmlov said. "It was just one of those nights where I was feeling good."
While those in and around the Prescott boys' basketball program had a lot of fun on Monday night watching Malmlov's historic performance, the River Falls coaching staff didn't. For head coach Zac Campbell, Malmlov's offensive performance was a highly-skilled player taking advantage of a struggling River Falls defense.
"He got a couple early and then it kind of felt like he was throwing it in the ocean when you have the talent that he does," Campbell said. "We didn't take him off the straight line and he got into a flow. Our off-ball defense has been so bad and it became a double-edged sword. We've had three bad weeks of practice and there's a feeling of hitting rock bottom tonight. We're hoping there's a response to that."
There was a distinct dichotomy in the postgame feeling between the two programs. For River Falls, it was hitting rock bottom just one week before the playoffs begin. For Prescott, it was producing a season-best performance against one of the best teams they've played all year. Coach Johnson spoke about how the win could be a turning point for this year's team.
"I told the kids that (River Falls) is a team that has been in battles at the top of the Big Rivers," Johnson said. "This is the potential we've been talking about for three months. This is exactly what we needed at the right time. I think coach Campbell is one of the best coaches in the state. To do what we did against that good of a team, I'm in awe."
Just days after Malmlov became the boys' all-time leading scorer, he dropped 15 points on the road against Ellsworth to officially become the all-time points leader for both the boys' and girls' programs.
Malmlov's 15 moved his career total to 1,813 points, passing 2021 graduate Bella Lenz, who previously held the record with her 1,811 career points. Coach Johnson spoke about Malmlov essentially rewriting Prescott's record book.
"He became our all-time leading scorer in boys and girls and that's historic. Basketball has been in this town for what, 80 years? And now he's the number one all-time," Johnson said. "Look at the people he's passed with Peter Brookshaw and Bella Lenz in a week. He can flat-out fill it up."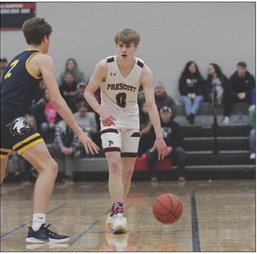 Jordan Malmlov of the Prescott boys' basketball team looks for an open teammate after breaking down his defender during his historic 55-point game against River Falls. Photo by Reagan Hoverman