ELLSWORTH – Two Ellsworth auto mechanics want to spark an interest in students to consider a possible career in their field and kicked things off with a significant donation last week.
Randy Brickner of Brickner's Auto and Bill Paider of Courtesy Auto each donated a Snap-On Tools Blue-Point starter kit to Ellsworth High School's tech education department Thursday, Jan. 26. The kits contain one of every essential tool needed in an automotive garage.
The hope is the donation will give students opportunities to become interested in automotive mechanics.
"The school didn't have a lot of tools available to the kids for their courses," Paider said. "We bought the toolboxes to try to get some kids interested in the trades."
The Snap-On Tools trailer visits both Brickner and Paider each week, bringing with it an overwhelming array of new tools and equipment.
EHS tech ed teacher Rob Heller is grateful for the donation. He believes developing relationships in the community is paramount to student success.
"Anytime you can build a relationship between a business and a school in the community, everyone wins," Heller said. "The tools will help bridge the gap between dad's garage and industry standards."
Bass echoed Heller's gratitude.
"I thank them for their generosity and giving the kids an opportunity to learn some real skills," he said.
Paider also brought a golf cart to EHS for the students to strip down to the frame and rebuild. David Lien, who is Courtesy Auto's golf cart specialist, will assist the students as needed. They will get a taste of installing the electronics, design, painting and mechanics. They will even have to cut into the body to install accessories. It will be a true experience of learning by doing.
Once the golf cart is complete, it will be sold in Courtesy Auto's showroom.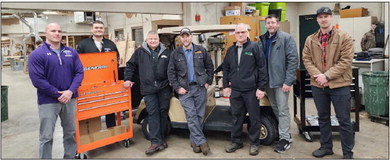 (From left): EHS teacher Rob Heller, EHS teacher Kasey Bass, Bill Paider and David Lien of Courtesy Auto, Randy Brickner of Brickner's Auto, Jason Adam of Meadowood Tool Co. and Wesley Korum of Snap-On Tools. Brickner and Paider each donated a tool box to EHS. Paider loaned a golf cart to EHS classes to take apart and reassemble. Photo by Sarah Nigbor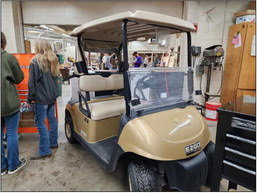 Bill Paider of Courtesy Auto brought a golf cart for EHS students to take apart and reassemble with new parts. Once it's finished, it will be sold in his shop. Photo by Sarah Nigbor