Ellsworth Public Library has a new home
ELLSWORTH – The atmosphere at the Ellsworth Public Library grand opening celebration Monday night was exhilarating, with patrons, donors, volunteers, and staff abuzz as they toured the new building.
After more than a decade of planning, fundraising, hiccups and determination, the Ellsworth Public Library has officially made its home in the former BMO Harris Band building at 388 W. Main St. Library Director Tiffany Meyer was surrounded by people all night as she and members of the Ellsworth Friends of the Library, Library Board, Library Building Committee, Gala Committee and volunteers showed of the new space they all worked so hard to give the community.
Children's Services Library Caroline Herfindahl said it felt fabulous to be in the new space at last.
"People who have come through can't believe we fit this all in the old space," she said.
The library space at 312 W. Main St. was 2,880 square feet; the new building increases that number by 8,769 square feet. The newly remodeled space offers plenty of room for programming, storage and gathering, with meeting rooms, study rooms, a hospitality area, a maker's space, teen room children's room, history room, computer bays and more.
Kim Beebe, a member of the Ellsworth Area Chamber of Commerce executive team, emceed the event. Library Building Committee Chair Paul Bauer spoke first.
"It is so exciting to see this project in my new backyard," he said. "It's really been a long time coming. It's literally been over a decade to get to this point."
Bauer said a library building/ space committee formed 10 years ago considered many options to provide the growing library a new home, including building new, renovating and remodeling an existing building. He credited John Thompson, director of the IFLS Library System, for teaching him that libraries take a "long time to develop," but are worth the wait.
He also thanked Meyer for being a constant in the process, through village president, village clerk/administrator, village board and architect changes. She and her staff tackled the "huge undertaking" of planning details with gusto, he said.
"She brough it to the finish line," Bauer said. "And this would not happen if it were not a community project."
Village President Becky Beissel took the mic next. She told of her visits to Ellsworth classrooms, where she teaches them about local government and community planning. She always asks students if they plan to stay in Ellsworth after graduation.
"Three years ago, I'll say 1.5 kids raised their hands," Beissel said. "A month ago, half the classroom raised their hands, and my village president heart grew two sizes that day."
Even if they don't stay in Ellsworth and spread their wings elsewhere, she still wants them to be proud of where they came from, she said. She wants Ellsworth to be known as a good place to grow up and pointed out the fundraising thermometer out front as proof. Thanks to the village's contribution of $500,000, the library's contribution of $595,000, and the rest of the $2 million raised from community donations (in large part to Jack Hines, Tony Birkel and several grant writers), a community dream became a reality.
"I have a new mantra," Beissel said. "There are no hard things, only long things. And this project was one of those long things."
While the library project hit many snags along the way, such as the water line infrastructure move, the boiler valve disaster that turned the library building into a rainforest, supply chain delays, and the like, the positives far outweighed the difficulties, Beissel said.
She acknowledged the work of retired Village President Jerry DeWolfe and the boards before her that dedicated funding to the project, as well as Meyer, who was a steadfast pillar during the entire process.
"Remember this feeling right now," Beissel said as she choked up. "This is what pride in our community looks like."
The library opened for business in its new location Tuesday, Jan. 24. A special event will be held at 10 a.m. Thursday, Jan. 26 to honor the RCU Foundation, which made a significant donation to the library project; it will also be sponsoring the library's children's area. Friends of the EPL President Pam Enger and grant writer Sharon Schulze will give remarks.
A children and families open house will be held from 10 a.m. to noon Saturday, Jan. 28, complete with book character visitors, guest reader storytime, crafts, activities, face painting and book giveaways.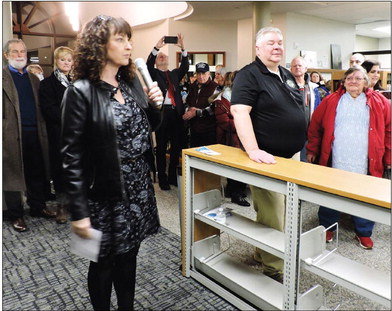 Ellsworth Chamber Executive Team Member Kim Beebe emceed the Ellsworth Public Library ribbon cutting and open house on Monday, Jan. 23. Rep. Warren Petryk takes a photo in the background. Photo by Sarah Nigbor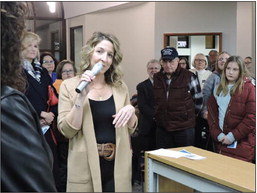 Village President Becky Beissel addressed the crowd at the Ellsworth Public Library open house celebration Monday, Jan. 23.Photo by Sarah Nigbor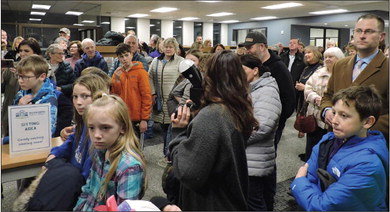 The new Ellsworth Public Library (388 W. Main St.) was filled to capacity Monday evening for the ribbon cutting and open house. Photo by Sarah Nigbor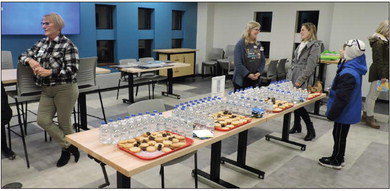 Library volunteers chat with visitors in the new Maker's Space at the Ellsworth Public Library on Monday, Jan. 23. Photo by Sarah Nigbor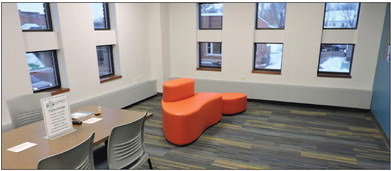 The new Teen Room at the Ellsworth Public Library will feature comfy furniture, a large TV and gaming systems. Photo by Sarah Nigbor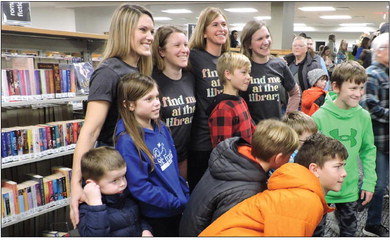 Groups such as the Library Board, Friends of the Ellsworth Public Library, and the Library Building Committee gathered throughout the new library Monday for celebration photos. Photo by Sarah Nigbor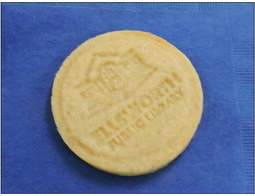 Retired River Falls Library Director Kim Miller made cookies with the Ellsworth Public Library logo, designed by Mindy Anderson, for the open house event Jan. 23. Photo by Sarah Nigbor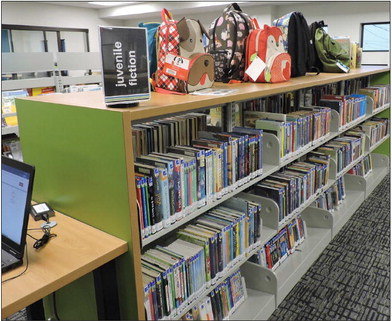 The new children's space at Ellsworth Public Library is filled with books, activities, and space for storytime, games and programs. Photo by Sarah Nigbor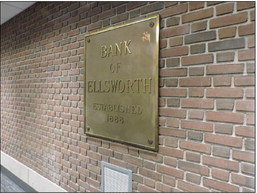 The new Ellsworth Public Library, located in the former BMO Harris Bank building at 388 W. Main St., is filled with nods to the past. This sign adorns the new conference meeting room.Photo by Sarah Nigbor